September 13, 2004
engaged.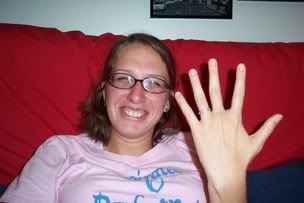 you can hardly see it, but there's the ring on my cute roommate's finger. you probably know by now that she and justin got engaged on wednesday night, and now the wedding planning begins. then on saturday, cheryl and drew got engaged! everyone's going engagement crazy, and i couldn't be happier for them. this summer's going to be the best summer for weddings. (jennifer's, steph's, and cheryl's, as of right now).
children of a lesser god
if you haven't heard by now, i got a lead part in erskine's fall production. i haven't had a lead part since nora's student-directed
the frog prince
. i got the shaft in
little mary sunshine
, but ended up getting a really challenging part (my character didn't speak). now, once again, my character is silent (dr. c. says he likes it when i'm silent). but this time, it's because i'm playing a deaf woman. that's right, i get to learn sign language. this is unquestionably the most unique, challenging and exciting role i've ever attempted, and i hope that i'm up for it. i think i am.
charleston
sb and i are taking a quick trip to charleston this weekend. friday we'll spend the night at my house in lexington, and we'll drive down to charleston on saturday for the day. hopefully no hurricanes will get in our way. i want to go to the beach. i'm taking my camera, in hopes of getting some pretty shots. the whole downtown area is very accomodating for photography.
fall RUF retreat
so, i'm not sure if i'm going on the retreat or not. i still have almost a week left to decide before the discount's up. there are a lot of factors that will effect my decision. i'll be thinking and praying about that this week.
ciao.